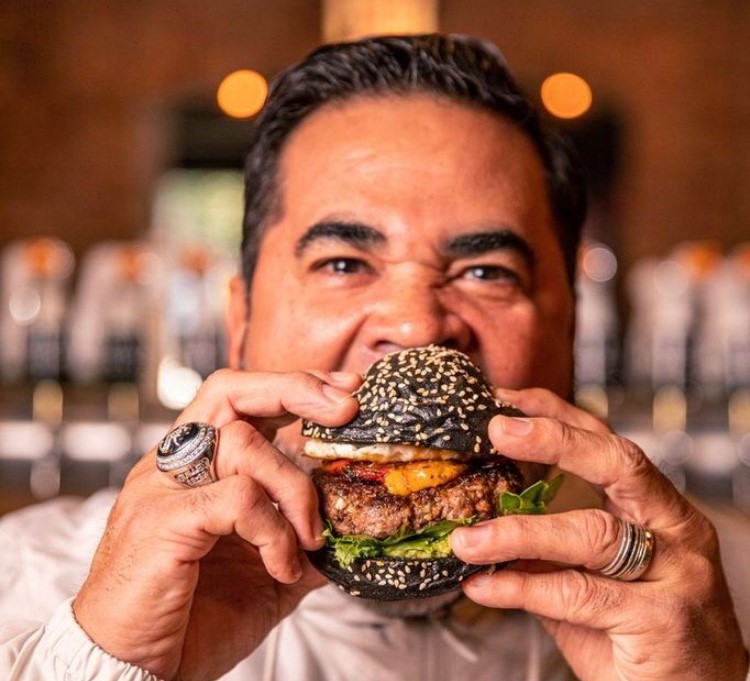 TeamWorks Media today announced that the Goose Island Beer Company will become the presenting sponsor of Being Guillén, La Vida Baseball'sregular visit with and inside the Guillén family. The sponsored show will stream Friday, October 16 from Goose Island Brewhouse in Chicago, and will feature Ozzie Sr, Ozzie Jr, and Oney Guillén offering their entertaining take on baseball and family. TeamWorks Media is the parent company of La Vida Baseball.
"We are proud to have Goose Island Beer Company join the La Vida Baseball family," said Jay Sharman, TeamWorks Media. "There is no more entertaining family than the Guillén's, who always deliver on storytelling on and off the baseball diamond, and it is a great way to again celebrate Hispanic Heritage Month with our growing audience."
"The Guillén family embodies all that is good about the diverse culture of Chicago," said T.J. Annerino (Goose Island Beer Co.). "We are looking forward to having Ozzie and his family here at our Clybourn Pub, and honored to support the Ozzie Guillen Foundation with the Ozzie Burger and share our beers well beyond our borders through La Vida Baseball."
The show will touch on all the recent developments in and around Chicago with the postseason runs of the Cubs and the White Sox now closed, as well as what is ahead for the offseason and a look at the Point of View of all the family members on the upcoming World Series, their thoughts on the Pandemic, and many other topics. Ozzie Sr. also has a burger named after him being served at the Brewery and the proceeds from the burger sale will go to The Ozzie Guillén Foundation. The @ozziegullen13 Burger is a mushroom infused short rib burger with green leaf lettuce, herb roasted tomato, avocado aioli, and a fried egg on a brioche roll, served in a White Sox helmet on a bed of maduros with Ozzie's baseball card and a 16 ounce Sox Golden Ale.
All that will be in addition to the live social media streaming series, highlighted by La Vida Baseball ¡Live!, the brand's interactive, fan-centric live show, hosted by Jennifer Mercedes (@Chica_Deportes), Julie Alexandria and Ozzie Guillén Jr; El Bullpen the short-form cultural video round-up, hosted by Julie Alexandria (@JulieAlexandria); Being Guillén, a hilarious weekly show and podcast, hosted by World Series winning manager, Ozzie Guillén and two of his sons, Ozzie Guillén Jr. and Oney Guillén; Pólvora, Voz y Diamante, an exciting and engaging Spanish language show with Polo Ascención, Jesse Castillo and Pliego Villa and Home Plate, a newly video series celebrates food and lifestyle hosted by Jennifer Mercedes and Julie Alexandria.
About La Vida Baseball
La Vida Baseball is a lifestyle media company that entertains and engages the Latino baseball community through original video, live shows and social media content. Launched in 2017, La Vida Baseball has emerged as the fastest growing Latino sports digital media company in the United States. Owned by TeamWorks Media, a Chicago-based media agency started in 2000, La Vida Baseball reaches more than six million English-preferred U.S. Latino fans per month. For more information, visit www.lavidabaseball.com or follow on all social channels @LaVidaBaseball.
About Goose Island Beer Company:
Founded in Chicago in 1988, Goose Island is a leader in craft brewing, creating award-winning beers that define innovative styles and capture the imaginations and palates of beer drinkers everywhere. Goose Island has won a variety of awards at acclaimed beer events including the World Beer Championships, World Beer Cup, European Beer Star, World Expo of Beer and the Great American Beer Festival (GABF). For more information visit http://www.gooseisland.com and find them on Facebook, Instagram and Twitter.
About TeamWorks Media
TeamWorks Media is a purpose-driven content agency empowering its clients to change the world and their bottom line with a story well told. The Chicago-based agency creates large scale, emotionally engaging content solutions and ensures they get in front of the right audiences on the right platforms.
TeamWorks Media is comprised of content strategists, award-winning storytellers, social media experts and strategic marketers to inspire clients achieve extraordinary results by harnessing their expertise in an increasingly niche media world.
TeamWorks Media built and owns La Vida Baseball, a Latino lifestyle digital media company, the fastest growing Latinos sports media company in the U.S. TeamWorks Media has long-standing partnerships with the Big Ten Conference and runs BTN's inspirational media brand, BTN LiveBIG. Recent clients also include Turner Sports, NBC Universal, Northwestern University, The World Golf Hall of Fame and the International Tennis Hall of Fame.