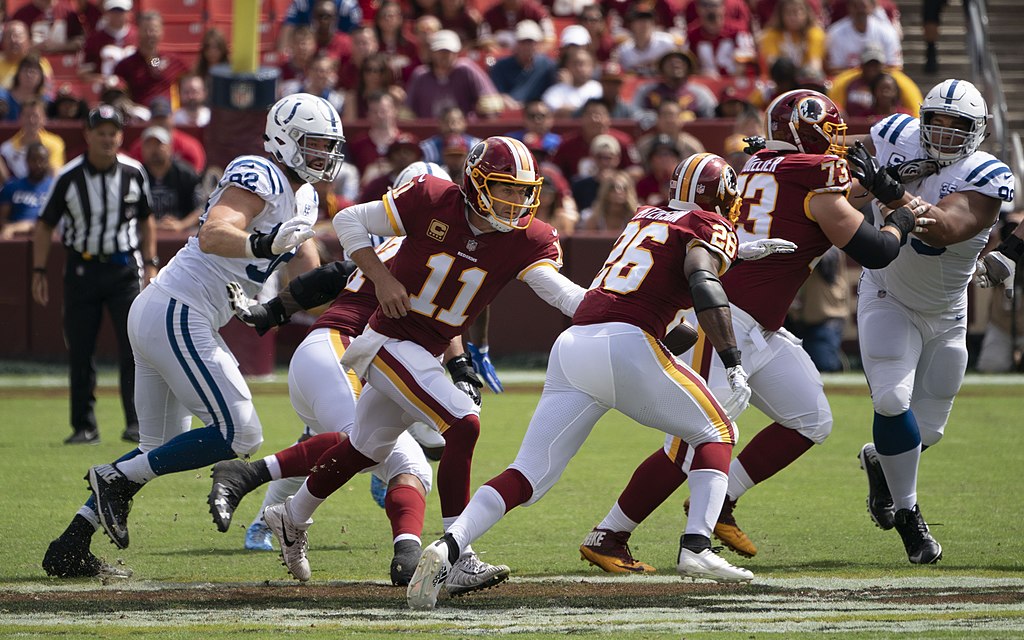 by Alex Perel, special to The Daily Payoff
As the second half of the NFL season progresses, many pundits will be releasing their predictions for the end-of-season awards. But one award race sticks out of particular interest this year: the Comeback Player of the Year Award.
Conventional wisdom may point to a candidate such as the Steelers' Ben Roethlisberger or the Texans' JJ Watt. Both are perennial stars returning to form after injuries last year. However, Alex Smith of the Washington Football Team has redefined what it is to be a "comeback player."
A catastrophic injury in Week 10 of the 2018 season left Smith with spiral and compound fractures to both his fibula and tibia, ultimately resulting in infections and sepsis that became life threatening. Doctors sought amputation as an option to ensure the virus did not infect his whole body, before several surgeries and skin graft procedures could be used to save the leg. Smith is now not only starting at quarterback in the NFL, a ridiculous thought considering where he was a year ago, but has the Redskins in first place in the NFC East.
On Monday night, he faced Roethlisberger's undefeated Steelers and dealt them their first loss of the season. The game was expected to be a Steelers route and appeared so with the Washington Football Team losing 14-3 at the half. Smith extended the game play by play, drive by drive, until eventually taking a three point lead as the two minute warning approached. Smith's simple resilience is ultimate inspiration. Winning and losing do not matter any more in Smith's story, not as much his pure fight to keep going. And yet, Smith unwilling to settle, is in fact winning. He has now won four in a row.
Smith's journey over the last 24 months was captured in the E60 documentary Project 11 which aired on ESPN in May. The documentary opens its story February 11, 2019, less than three months after the injury. Smith had incredible persistence that we was going to pursue an immediate comeback attempt, allowing ESPN to document this effort as a show of his confidence in himself.
Project 11, like the CC Sabathia Documentary we highlighted last weekhttp://www.thedailypayoff.com/sabathia-documentary-to-debut-december-22/, is an example of the transcendent power of athlete media. Much of athlete media is filled with podcasts and short form content concerning players' opinions on everyday news in the sports world and beyond. This content is incredibly insightful, and a component of athlete media involves getting an insight into the minds of our heroes.
But heroes also go beyond to show us how to overcome battles in our daily lives. Both Sabathia, with his fight against alcoholism, and Smith overcoming devastating injuries are inspirations to people every day. Athlete media is meant to do exactly that: inspire people to be the best versions of themselves, to do what they think they cannot.
Watch Project 11 now on the ESPN app or ESPN+.