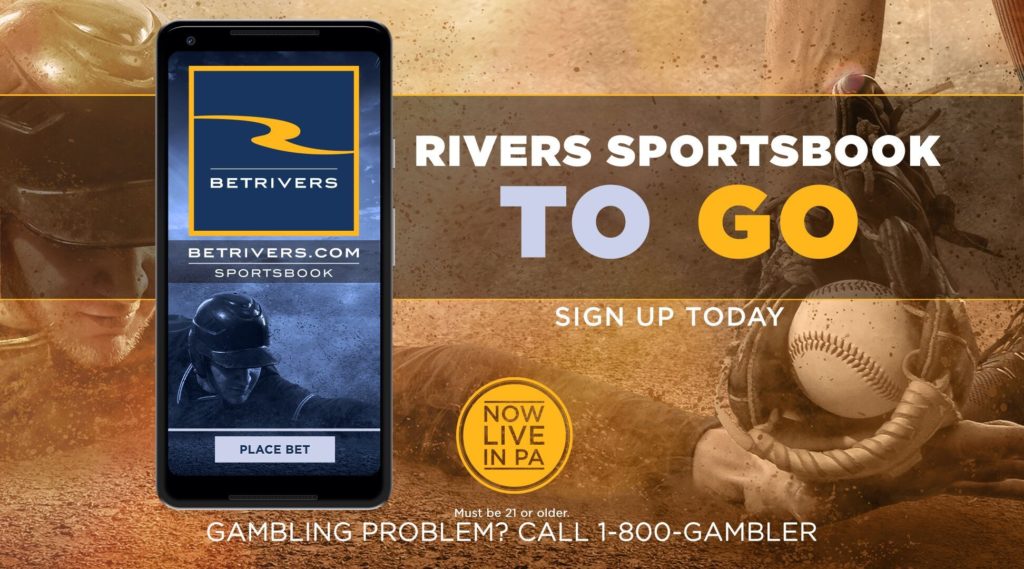 Rivers Casino Pittsburgh, along with sports betting provider, Rush Street Interactive, today launched Rush Street's second online and mobile sportsbook for Pennsylvania—called BetRivers.com.
This is a first for Pittsburgh and for Western Pennsylvania. Fans of Rivers' popular in-casino sportsbook can now take that same action on location via mobile devices, laptops and desktops. Bettors need only visit BetRivers.com to register.
Registration can be completed anywhere—inside or outside Pennsylvania. As such, users need not be inside the casino to set up an account. To wager, bettors simply must be physically located within the state of Pennsylvania and at least 21 years old.
BetRivers.com will kick off its two-day test period starting Tuesday, June 25, from 4 p.m. to midnight, and Wednesday, June 26, from 2 p.m. to midnight. All bets placed during the test are real-money wagers, with complete features and options available—the only difference being limited hours of operation. Pending review and approval from the Pennsylvania Gaming Control Board, 24/7 online and mobile wagering at BetRivers.com will commence immediately thereafter.
"This summer marks Rivers Casino Pittsburgh's tenth anniversary," said Bill Keena, Rivers Casino general manager. "We're celebrating one decade while planning ahead for the next. Full-service online, mobile and in-casino sportsbooks are where the industry is headed, and thanks to our Team Members, we're already there."
All sports and all wagering types available at the in-casino sportsbook are available at BetRivers.com. Millions of betting options on thousands of games—locally and around the world—will be at bettors' fingertips, with an intuitive customer interface similar to the self-service kiosks on property.
On laptops and desktops, players just visit BetRivers.com to get started. Android users must also visit the website on their mobile devices and download the app to wager. For now, Apple users can register using their mobile devices but will need to wager via laptop or desktop computer. Betting from iPhones and iPads should be available soon.
"It's an exciting time for Pennsylvania sports fans," said Richard Schwartz, president of Rush Street Interactive. "With NFL preseason just a month away, game days this fall will be next-level."
Rivers Casino Pittsburgh's digital and in-casino sports wagering operator is Rush Street Interactive PA, LLC, (RSI) and its affiliates. RSI operates BetRivers.com along with Pennsylvania's first online and mobile sportsbook, PlaySugarHouse.com. RSI has generated over 50% of all retail sports betting in Pennsylvania since the market opened in November. Rivers Casino Pittsburgh and SugarHouse Casino Philadelphia are the top-performing sportsbooks in Pennsylvania, respectively.