Sports Gambling Podcast Network (SGPN) answered all the questions about how a College Football Playoff Tournament would look during the holiday period and the initiative has provided a virtual blueprint for decision-makers as they ponder how to maximize the potential of the sport.
The prominent sports prognostication/analysis website, app and podcast platform used an internal committee of experts to select the 16 most deserving teams, seed them and then run the tournament of games using Twitch during the first week of January.   The process was unveiled at www.sportsgamblingpodcast.com with a bracket consisting of 10 conference champions plus six at-large teams generating tantalizing matchups such as Notre Dame (5) vs. BYU (12), intersectional confrontations including Cincinnati (3) and Utah St. (14) and interesting underdog opportunities such as Northern Illinois (16) vs. Alabama (1) and UTSA (15) vs. Michigan.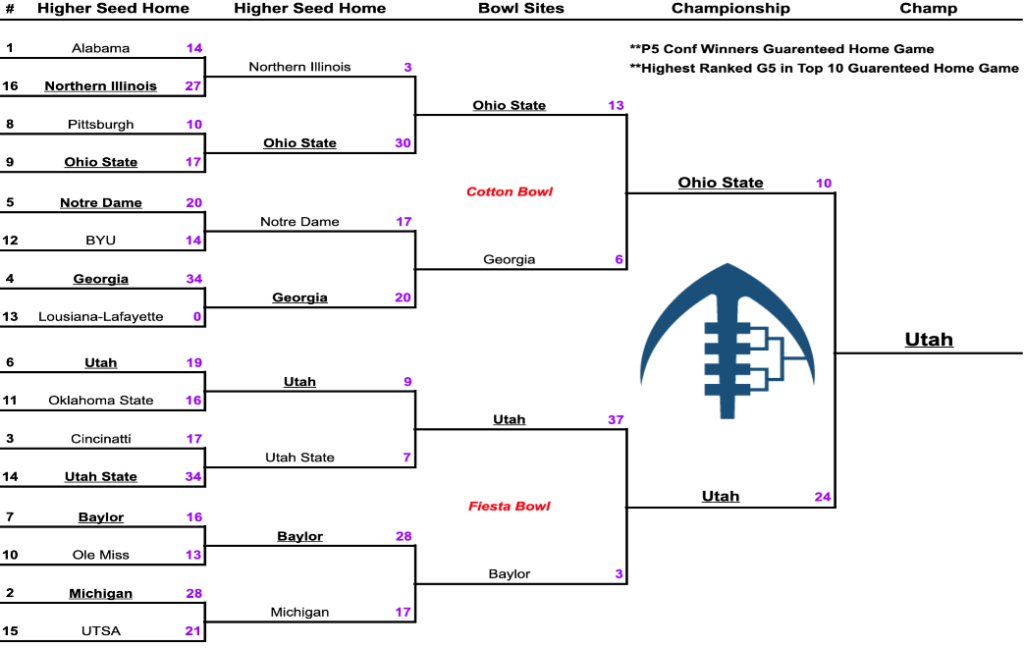 The full bracket below also includes tasty confrontations such as Pittsburgh (9) vs. Ohio St. (8) and Baylor (7) vs. Mississippi (10) and it is easy to imagine an unprecedented level of excitement and intensity for players, coaches, student bodies and fans for the four-week process.
The Twitch-simulated tournament delivered a championship game of Ohio St. vs. Utah, with Utah emerging victorious as the National Champion, 24-10. Among the upsets along the way was Northern Illinois over Alabama in the opening round, Baylor over Michigan in the quarterfinals and then Utah into the final against Ohio St., which beat Georgia in the semis. The entire tournament simulation with both audio and video as part of an SGPN podcast is available here. The realistic, individual-player graphics in an accelerated time format with big hits, crowd noise, player celebrations and coaching decisions makes for a fun, provocative videogame viewing experience.
The championship game, featuring commentary from SGPN podcast co-hosts Sean Green and Ryan Kramer with SGPN college football expert Colby Dant, takes 45 minutes.
"This is the kind of unpredictability that makes live sports the best viewing experience there is," said Green, the SGPN CEO who also organized an audience bracket challenge with a $500 cash payout to the winner. "Sixteen teams brings an NCAA March Madness feel and with football's dominant popularity the value of such a 15-game property could approach that of the Olympic Games."
"I was surprised at the way it worked out with some of the tremendous matchups and then upsets along the way," offered Kramer, who predicted the big game from Stetson Bennett and correctly had Georgia plus the under Monday night enroute to a 24-18 bowl season prognostication record. "We're fans and we have this platform to advocate for a 16-team playoff on behalf of our audiences, so we're using it."
"Please take note, Mr. Bob Bowsby (Big 12 Commissioner) and you FBS (Football Bowl Subdivision) commissioners in charge of the College Football Playoff.  We don't have to wait until 2026.  We've come a long way from the insanely arbitrary and disorganized independent bowl system of the 1990s.  Here's a blueprint.  Forget about the 12-team option.  Let's lock you all in a room until a 16-team playoff is ready to go." 
The only major independent sports wagering media network that places a premium on entertainment value and free user content, SGPN achieved a 30 per cent year-over-year increase in total downloads during the course of 2021, exceeding three million total during the 12 month period.       
SGPN content is most readily available on the SGPN App, available on all devices and downloadable at Apple's App Stone and Google Play Store or via www.sportsgamblingpodcast.com.   
cover image: Paula R. Lively