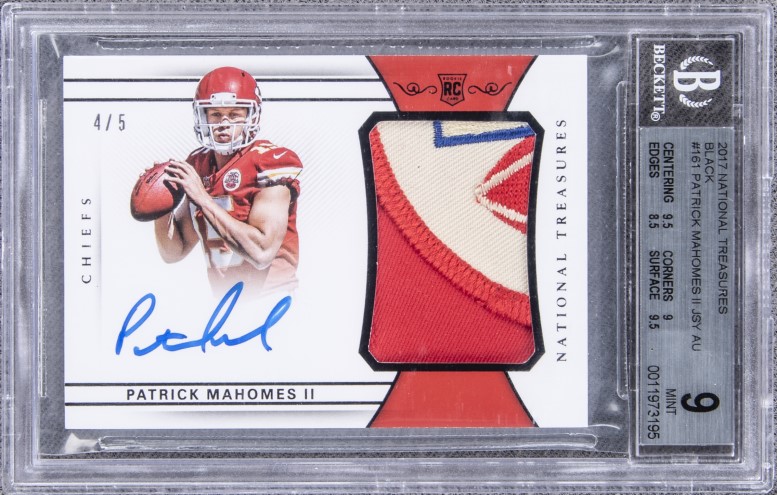 When the Gavel dropped on the Goldin Auctions October Legends Auction, the total proceeds topped $16 Million, a figure never before that had been eclipsed in the Online Sports Memorabilia Auction Industry from single auction event. Topping the list of most valuable items was the T-206 Honus Wagner card in Lot #1 which sold for $1,426,800 setting a new All-time record for a Honus Wagner T-206 card in the respective grade by PSA. In addition to the record bid price on the famed Honus Wagner, another very iconic basketball rookie card of Michel Jordan has also toppled the record. The red, white and blue 1986 Fleer issue featuring Jordan sold for the price including premium of $124,230, setting a new auction record for this popular card.
Other notable sales were the 1952 Topps Mickey Mantle that sold for a staggering sum of $584,250. A new record for the most expensive Soccer card of All time was also set with a sale of $295,200 on a 1958 Alifabolaget Pele rookie card graded a PSA MINT 9 and a 1986 Fleer Basketball set containing Michael Jordan's rookie card also set a new record price $224,300.
"For the past several years my goal has been to increase the both the user base of Goldin Auctions, as well as grow the business for the entire industry," says Ken Goldin, founder and CEO of Goldin Auctions. "We have seen a tremendous increase in both the number of collectors in the hobby as well as a tremendous growth in our user base at Goldin Auctions. Our October Legends clearly demonstrates this as it was not only the highest grossing auction in the history of online sports auctions at $16 million, but also registered the most bids ever recorded at Goldin Auctions, as well as the most bidders and the most unique winners."
Goldin also explained, "I would like to thank all of our consignors who contributed tremendous product to the auction, and all of our bidders, not only for their support during this auction, but during all of 2020 which has seen us put up an unprecedented run of five consecutive auctions which have each generated in excess of $10 million in sales."
Goldin Auctions is currently seeking consignments for our Holiday Auction being held in December and our next Goldin Elite auction in January. To get into the auction you can consign by emailing an image and description of your items to [email protected].
The Goldin Auctions 2020 October Legends Auction Session 1 also featured the Cal Ripken Jr. personal collection that included game used items and memorabilia from the career of Hall of Famer Cal Ripken, Jr. from his first little league uniform, to his early days as a Baltimore Oriole, to items from his historic consecutive game streak, 3,000th hit, 400th home run, World Series Championship, retirement and more. The collection brought in over $1.2 Million in total revenue and a portion of all his items sold will benefit the Cal Ripken, Sr. Foundation.
The Highlighted sales from the Ripken collection was the Jersey worn by Cal for his final game of his 2632 consecutive game streak that fetched $184,500, the jersey worn by Cal for his Major League Debut sold for $123,000 and the bat used by Ripken in the 1st inning of his record breaking 2131 consecutive game brought in $124,230.
Session 1 which closed on Saturday Night consisted of Lots 1 – 417 and Session II Consists of Lots 418-1923 and closed on Sunday November 1st