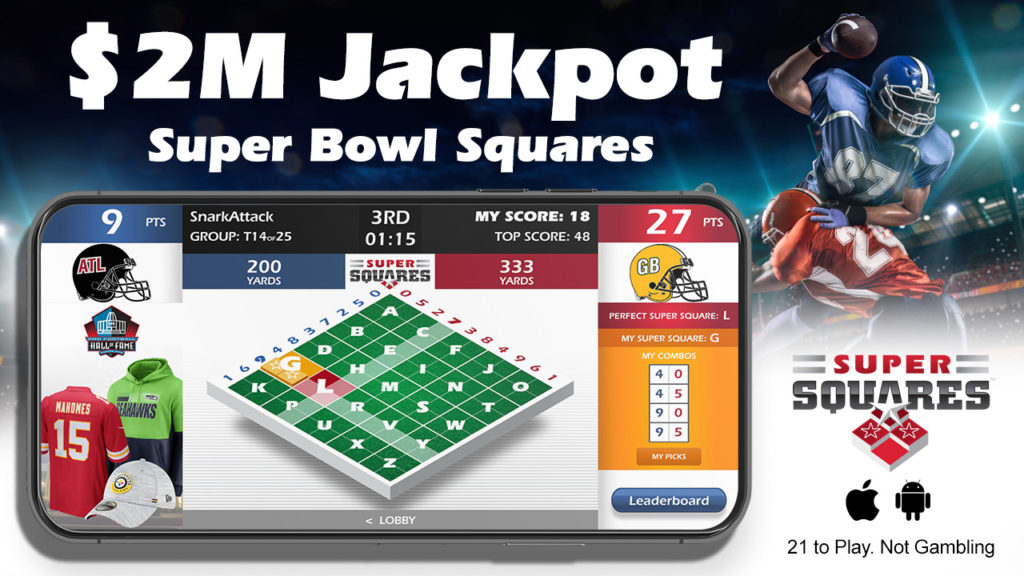 Today, Super Squares®, the live mobile game show that launches Advertising as a Sport™, announces the World's Biggest Super Bowl Squares Party, happening concurrently with Super Bowl LV on Sunday on February 7th where the Kansas City Chiefs will go head-to-head with the Tampa Bay Buccaneers. Thousands will play the football squares game using the free-to-play app while watching the NFL Championship game on television. Fans seeking a multi-screen experience will be able to join a live Twitch watch party hosted by notable NFL analyst Mike Golic, and NFL Super Bowl XLVII Champion and Commissioner of Sports at React, Matt Birk.
The football squares tournament happening on Super Squares® has been designated as a World Record attempt by Guinness World Records, allowing every participant the opportunity to help set a World Record simply by competing in the app. In addition to the Guinness World Record attempt and fun happenings on Twitch.tv, Super Squares® offers a $2.4 million prize pool, including a $1 million Perfect Game Jackpot that will be doubled to $2 million when shared with a 'Buddy' who may have referred the Winner to Super Squares®. The highest score during the tournament-culminating Bigger Game® event will be awarded a $80,000 Rivian Electric Adventure Vehicle, expected to roll into production later this year.
"Playing the football squares game is a tradition that brings everyone together and I'm happy we can still do so virtually this year," said Mike Golic, notable NFL analyst and former ESPN commentator. "I've always been a fan of the squares game and I'm proud to lead the charge for fans to move from paper squares to Super Squares®. Mobile technology has eliminated paper in mail, maps and even Fantasy Football, and Super Squares® takes a game that millions have played on paper to the next level – just in time for a season where social distancing is keeping us apart."
While in-person paper-based squares games usually found in offices, pubs and parties are less practical, the Super Squares® app still allows friends to play against each other using a proprietary "SkyBox" feature. To demonstrate, Golic has created his own SkyBox and is inviting "…everyone to crash my SkyBox and compare your final score to mine. I'll award $250 from the Pro Football Hall of Game store to the highest score in my SkyBox, IF you can beat me!" Super Squares® players can enter the SkyBox by using the password "Golic" when joining gameplay on February 7th.
The free-to-play app combines the score matching elements of squares, with prediction and ad gamification, to provide a unique game show element that attracts casual and avid sports fans alike. Since the start of the 2020 season Super Squares® has already awarded over $300,000 to more than 3,000 players, and the Guiness World Record attempt will be the first time the entire nation will converge in a national tournament around the Super Bowl.
"This has been a different NFL season for all fans and I'm thrilled to be part of something that is bringing everyone together to bond over the game, but also be part of the real-time feedback for Super Bowl advertising," said Matt Birk, Commissioner of Sports at React, the company behind Super Squares® and NFL Super Bowl Champion. "The Super Bowl is, of course, about crowning the NFL Champion, but it has also developed into a showcase for ads and people all over the country talk about advertising. Super Squares® understands this unique relationship and puts brands at the center of the action."
Super Squares®, which piloted in May 2020, is the first reactive product showcasing the natural relationship between sports and branding. Players compete while watching live sports and are prompted to rate each in-app mobile TV commercial and then answer questions about them and are rewarded for being correct. This provides instant ad sentiment while verifying attention and ad recall, removing all the guesswork brands have about the delivery and effectiveness of their ads. These reactions provide participating brands and agencies with census-level validation of fan engagement and sentiment, measurable over time. This depth of understanding is simply not available to brands delivering traditional TV ads, even when they spend $5.5 million for a single TV spot. The live game show app provides consumers an opportunity to "get in the game" and will ultimately allow sports fans around the world to engage with all sports, no matter the league.